Mr and Mrs Simmonds – Chain Break
Quick Move Now saved our dream move after buyer pulled out at the last minute
Essex, South East England
Annie and Hugh Simmonds spent two and a half years searching for a property in Devon. They finally found the home of their dreams but were then left distraught when their buyer pulled out of the house sale at the last minute. Their move suddenly felt impossible.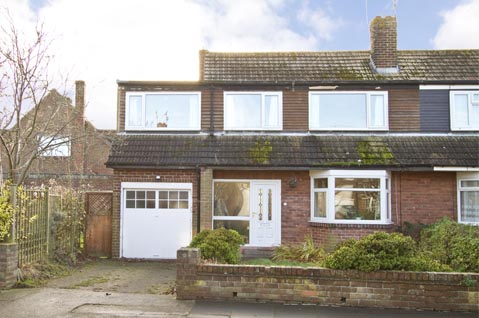 Having spent so long looking for their new property, the thought of losing it through no fault of their own was very upsetting. They were worried that if they lost their dream home, it would be very
difficult to find something similar in the same location. .
Not wanting to risk the sale falling through for a second time, they decided that using a professional home buyer would be the best way to prevent any future heartache. They got in touch with Quick Move Now and asked about the guaranteed property buying service we provide.
Mrs Simmonds explains: "We had sold our house and the buyer pulled out, near enough at the last minute. It put us in a difficult position where we could have lost the home we were wanting to buy. If that had been the case, it would have been very difficult to find something else that would give us such a good location. That's why we decided that we didn't want to enter into another chain.
"If we'd had to find something else, if we had lost this house, it would have cost us double what we lost on the market value [by selling to a cash home buyer]…It had taken us two and a half years to find something here in Devon and the thought of losing it, you just couldn't put a price on it!
"Quick Move Now took away all that pressure. They were very helpful, they were very kind and understanding, and they helped us immeasurably.
"I don't think I would ever use an estate agent again, to be honest with you. Whenever we spoke to anyone at Quick Move Now they were genuinely interested in helping you, not just buying your house.
"The stress was just taken away. There was one person, there was no chain.
"There are people who come along, like Quick Move Now, who make your dream possible. That is the core of their business. Yes, they're buying and selling houses, but the core of their business is helping people, and they certainly do that.
"For me, I can't put a price on the service Quick Move Now gave us because it was exemplary!"
Mr and Mrs Simmonds were in a very difficult position when they first contacted Quick Move Now. It had taken them a long time to find the property they were looking for, so they were very concerned that they would lose it.
We worked quickly to provide them with a free, no-obligation offer, so that they could decide whether we were the right service for them. They quickly accepted our offer and we got to work, providing a guaranteed sale of their property on a date of their choice. The purchase of their new property was slightly delayed, so they asked to change the date for completion of the sale and that was no problem at all. Because we buy your property directly, with our own cash funds, we can be flexible to meet your needs and complete on the date that works best for your onward plans.
We're delighted that we were able to help Mr and Mrs Simmonds to secure their dream home.
Estate agents who conducted independent property valuations: Douglas Allen
RICs Surveyor used: East of England Survey
Solicitors used: Wards
If you're stuck in a property chain and want to discover how much a professional home buying company like Quick Move Now would offer to buy your house directly either call our friendly team today on 0800 086 3366 or complete our online form to get a free, no obligation cash offer today.
View Case Studies: