How to speed up the sale of your house
The question of how to speed up the sale of your house can be a tricky one. The process of selling a house requires lots of different parties to work together. This means there are lots of opportunities for hold-ups, which can be incredibly frustrating.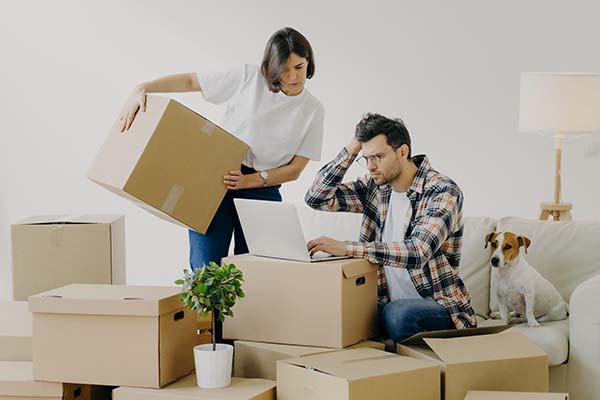 In this guide
How long does it take to sell a house and have house sales slowed down?
There is little doubt that the property market has slowed significantly over the last year. In many areas, it's now taking around 50% longer to find a buyer than this time last year.
According to recent data, it now takes an average of 65 days from listing your property to accepting an offer. It then takes a further 139 days, on average, from offer acceptance to sale completion.
In total, it takes an average of 204 days – just under 7 months – to sell a house.
Why is my house sale taking so long? Common reasons for a slow house sale
If you're trying to find out how to speed up the sale of your house, there will be a few scenarios you'll want to avoid. These are some of the most common reasons for a slow house sale:
Difficulty finding a buyer
Length of property chain
Slow solicitors
One or more parties having difficulty obtaining a mortgage offer
Delays in obtaining property searches
Needing additional survey reports
Difficulty finding a buyer
During the 'hot' post-pandemic property market, we got used to homes selling in a couple of weeks. The market has slowed significantly, however, and it's now not unusual for a property to sit on the market, unsold, for several months.
If you're hoping to speed up the sale of your house, it's important that you price it well and ensure it's looking its best. In a buyer's market, you need to make your home more appealing than other properties. Price will always be key to this.
If you need a fast sale or are struggling to find a buyer, a cash homebuying company can offer you a guaranteed sale on a date of your choice. Selling to a business means you'll get less for your home than you would on the open market, but if speed and certainty are your main concerns it can be an invaluable service.
Large property chains
Property chains can cause all sorts of problems and are one of the biggest causes of house sales falling through before completion. The longer your property chain (the number of related property sales), the more at risk you are of serious delay and chain collapse. Even if there aren't any unexpected issues, coordinating a larger number of sales will always take longer.
Solicitors holding up house sale
Conveyancing solicitors have to juggle a number of different cases. If you're keen to speed up your house sale, it's important to work closely with your conveyancer and ensure you're both proactive in pushing the sale through to completion.
Difficulty obtaining a mortgage
Mortgage lenders are becoming increasingly cautious in the face of high inflation rates and lower customer affordability levels. As a result, they may ask for additional information. This will help them decide whether they're able to make you a mortgage offer. If extra due diligence is needed, it can cause delays to the house sale process.
It is currently estimated that around 25% of failed sales are due to buyers being unable to secure a mortgage.
Slow property searches
Searches are a significant part of the legal house selling process. They investigate whether there are any historical issues in the local area that may impact the property, or any planned developments nearby.
Most homes will need to have the following searches conducted before a sale can complete:
Local authority search
Environmental search
Water and drainage search
There are also a number of other discretionary searches that you can opt in or out of.
You would usually expect to get the results of your searches in 2-3 weeks, but if any areas need further investigation, you may be held up. It's important to order your searches early in the conveyancing process to avoid any unnecessary delays.
Additional survey reports
If your property survey identifies any areas where further investigation is required, it will have an impact on the speed of your house sale.
Additional investigation may be required for a variety of reasons. Your surveyor may have spotted signs of potential structural problems at the property or may be concerned about areas of damp.
Arranging for experts to visit the property and waiting for their report will slow down the buying process. Depending on their findings, you may also need to liaise with the mortgage lender and renegotiate on the sale price.
How to speed up the sale of your house – top tips
If you need to sell your house fast, these tips could help:
Prepare as much as you can
Doing as much 'admin' as you can before you market the property will help to speed up the sale of your house. This is especially true when it comes to your personal finances. You want to make it as easy for a mortgage lender to say 'yes' as possible. This will include ensuring your credit score is in tip-top condition, having all of your financial records to hand (at least 3 months' payslips and bank statements, plus annual accounts if self employed) and having an 'Agreement in Principle' from your mortgage lender.
You should also gather any paperwork relating to the property. This might include lease information (if the property is leasehold) and any warranties or guarantees relevant to the property eg. double glazing FENSA certificates or boiler servicing records.
Choose your estate agent and solicitor carefully
As we've already mentioned, solicitors play a vital role in the speed and success of your sale, and the same is true for estate agents. If you don't have any personal experience of reputable estate agents or conveyancing solicitors in your area, it's always best to ask for personal recommendations from people you trust. Buying and selling property is expensive. This means it can be tempting to go for the cheapest quote, but that could end up costing you in the long run. Your estate agent and solicitor 'represent' you to your buyers. Don't risk the success of your sale on saving a few pounds. Always base your decision on reputation rather than price.
Choose your buyer carefully
In a buyer's market this can be a difficult one to have any control over, but if you have a choice of buyers, think carefully. Choosing a buyer in an uncomplicated, proceedable position is always likely to be a better move. An ideal buyer would:
Be chain-free (or in a very small property chain).
Have an Agreement in Principle in place with their mortgage lender.
Be employed (rather than self-employed) and have been in their current job for a number of years. This will make securing a mortgage much quicker and easier.
Have a substantial deposit available. Again, this will help them to secure a mortgage.
Of course, you're unlikely to find the perfect buyer, but any one of these factors (the more, the better!) will be likely to speed up the sale of your house and improve its chances of completing successfully.
Keep talking
If you want to speed up the sale of your property, it's important that you keep in regular contact with your solicitor. This will help to keep track of the sale progress and make sure you're aware of what's needed for the sale to complete. The same goes for your estate agent. Your estate agent should be in frequent contact with your buyer, keeping them updated. It's important that you check in with them regularly to keep up the momentum of the sale.
Be realistic and objective about your current property
It's not uncommon for mortgage lenders to down-value properties (say they're worth less than the agreed sale price). It is also not uncommon for buyers to try to renegotiate the sale price if anything undesirable shows up during the survey. If either of these things happen, it's important that you remain calm and try to be realistic and objective about the situation. If one lender down-values the property, it's highly possible others would do the same. In a buyer's market, it's important that you try to work together to find a solution.
If the property has been down-valued by the lender, you have two choices. You can either agree to the lower price or put your property back on the market. However, going back on the market would significantly delay your sale and would likely result in you losing any property you were hoping to buy.
If your buyer tries to renegotiate after the survey, you can:
Refuse to alter the price. However, doing so could risk your buyer pulling out and the sale falling through.
Agree to their suggested price reduction to keep the sale on track. If you do this, you will need to consider how achieving less for your current property will impact your onward plans.
Try to meet in the middle and negotiate a smaller discount than the one they have suggested. Whether this is successful will depend on how much they want the property and how expensive they think the issues identified in the survey will be to rectify. Again, you may risk the buyer pulling out all together if they don't feel you're offering a big enough discount. It's important that you have a knowledgeable estate agent who can handle the negotiations sensitively and gauge how open the buyer is to compromise.
Be responsive
If you want to speed up your house sale, it's important that you respond promptly to any enquiries from your solicitor or estate agent. Ensure you answer all questions with as much detail as possible. This will reduce the amount of 'back and forth' required and speed up the sale.
If you need a quick or guaranteed sale, Quick Move Now could make you a free, no-obligation cash offer for your home. Call our friendly, helpful team on: 0800 0683366 or fill in an enquiry form here.