"When was my house built?" can be a tricky question to answer. There are lots of ways to get a rough idea of when a property was built, but getting an exact year can be a little more challenging.
If you're looking for information about your property, including when it was built, these are some of the best ways you can find out more about your property's history.
How old is my house?
Architectural clues often make it quite easy to find out how old your house is. There are certain design features that are typical of certain periods, spot one of these and you'll have a good idea of the period your home was built in.
Georgian property (built between 1714 and 1830)
Homebuilders working on Georgian properties wanted them to feel light, bright and airy. Townhouses were made three or four storeys high, with the bottom two or three floors featuring grand proportions and large window. The top floor, in contrast, tended to feature smaller rooms, lower ceilings and smaller windows. This is because, traditionally, the top floor of a town house would have housed the staff.
A Georgian property's exterior would usually have been designed to be symmetrical and flat. Properties were often built around a square of green space, which served as a community garden. This was because Georgian town houses usually had little or no garden to the rear of the property.
Victorian property (built between 1830 and 1901)
The Victorian period was a time of increased wealth for many people, which led to a higher rate of property ownership. This need for more affordable housing was reflected in the prevalence of narrow rows of terraced houses.
Victorian terraced properties were mainly built in industrial areas, in close proximity to large factories.
Internally, Victorian terraced properties were usually constructed in a simple two up, two down configuration, with narrow hallways and bay windows. Internal decor features were likely to include geometric tiled hallways, wooden floors and character fireplaces.
Edwardian property (built between 1901 and 1920)
Simple design and handmade details dominated Edwardian homes.
After mass home building in the Victorian period, Edwardian house builders moved out to the suburbs to find land to build new houses. Because of this, Edwardian properties tend to be wider than their Victorian equivalents. Other popular features included porches with wooden frames, parquet flooring and mock-tudor cladding at the top of the house.
1930s homes
A stereotypical 1930s home was a three-bedroom, two-storey, semi-detached or detached property, with two double bedrooms and a significantly smaller 'nursery' bedroom.
Externally, it was common for 1930s properties to feature a detached garage and a large family garden. Other design features of the period included large bay windows, wooden wall panelling and geometric stained glass feature windows.
1940s and 1950s homes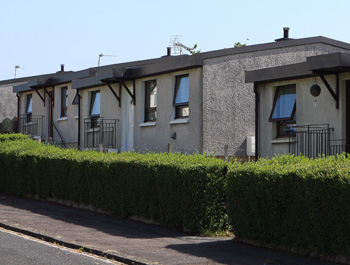 Post-war Britain needed a substantial number of new homes to replace those damaged or destroyed during World War 2.
In public housing, prefabricated houses were the dominant choice. Quick and cheap to erect, these 'prefabs' were only ever intended to offer temporary accommodation, yet many are still lived in today.
Once the country and economy started recovering, and industry was back up and running at full capacity, materials became available to create more standard construction properties. These were rectangular and box-like in shape, with concrete tile gabled roofs.
1960s homes
The 1960s saw several new home design ideas. Garages, which had previously been detached, became linked or integrated, and car ports became a popular new concept. Patios also became a popular addition to outdoor space.
From the front, a typical 1960s property featured plain flat walls, either rendered or plain brick, with wide 'picture' windows. Light brown and grey brick were popular in the 1960s, along with concrete tile cladding. Flat roofs on garages and extensions were also common.
Internally, homes built in the 1960s were heavily influenced by the Parker Morris report, which said that all new homes should be built with modern central heating. As a result, chimneys began to disappear from the skyline. The fact that most homes were not reliant on fires for warmth did not, however, deter homeowners from installing large, decorative 'Cotswold stone' fireplaces, which were a classic feature of the era.
1970s homes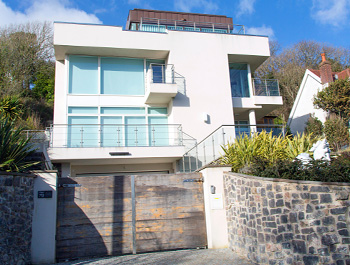 The trend for bigger rooms and big windows continued during the 1970s. Open plan living grew in popularity and kitchens became the new hub of the home, with the addition of features such as breakfast bars marking them out as a social space as well as a functional room.
Statement staircases also became a big feature; spiral, open or Hollywood style were all popular choices, and the addition of an ensuite bathroom was the height of fashion.
1980s and 1990s homes
The 1980s saw a 'boom' in the UK property market. At one point, property prices rose by as much as 30 percent in just six months. The bubble didn't last, however, and many fell into negative equity. In 1992 alone, around 75,000 homeowners had their property repossessed.
Properties built in the 1980s and 1990s reflected the economic change.
Internally, expendable income was spent on modern technology for the home. Microwaves and other modern appliances had dominance as the kitchen continued to grow in popularity as a social space.
Safety also started to play a big role in how a property looked. Property regulations were introduced throughout the 1980s and 1990s, including stair design (1992), the removal of lead from all household paint (1992) and the need for household fixtures and fittings to be fire resistant (1988).
Homes built from 2000 to present day
Sustainability and energy efficiency have played a big role since 2000, both in how our homes look and how we live in them. Smart meters, increasingly efficient double glazing and good insulation are all standard property features in the 21st century.
Architecturally, the line between indoors and outdoors has become less rigid with a trend for bi-fold doors leading from an open plan kitchen-diner out into the garden. This allows for a free-flowing space during warmer weather and a visual connection all year round. Generally, outdoor space has become smaller and lower maintenance.
When it comes to bedrooms, master bedrooms have evolved into master 'suites', commonly including an ensuite bathroom and dressing area.
How can I find out when my house was built?
Trying to determine the exact year your property was built can be challenging. Land registry keeps a record of land ownership, and can be a really useful place to find information about your property, but unfortunately they do not document what is built on the land and when.
These are some alternative methods you might want to consider if you're looking for a more precise timeframe for when your property was built.
If you have a mortgage on your property your mortgage lender would have required a home buyer's survey before they allowed the mortgage to go ahead. This survey should include a significant amount of in-depth information about your property, including a house age check.
Your property survey is a great source of property information and can be referred to easily for any future property queries.
Visit your local planning office
Your Local Authority planning office keeps thorough records of planning applications. As a result, you may be able to find information about when your property was originally built, along with details of any further improvements or developments that required planning permission.
Consult your property title deeds
Property title deeds contain a wealth of useful information. In addition to details of the property's historic ownership, title deeds may include legal paperwork such as sales contracts, mortgages, wills and leases.
What will a land registry search tell me about my house?
A land registry search is a great way to access information about your property and its history. Information available includes:
Who currently owns a property
How much each owner paid for the property (for any sales that have taken place since 2000)
Who the mortgage lender is (if the property was purchased with a mortgage)
Any restrictions on the property
Any rights of way easement impacting the property
Whether there is considered to be any flood risk to the property
The land registry can also be used to get an idea of when your house was built.
Assuming the developer who built your property sold it fairly quickly after completion, you should be able to use the date of the first transfer of ownership from the developer to calculate the approximate age of your property.
Where else can I find information about my house?
If you're looking for more information about the history of your property there are other records you can search.
1862 Act Register
Back in 1862, the Land Registry Act was the government's first attempt to record land and property ownership in Great Britain. Approximately 2,000 properties were recorded in handwritten documents. If you live in a historic property that was built before 1862 it is possible that it will feature in the 1862 Act Register.
Search census by address
The UK government has a '100 year rule' that means they will only make information collected in a census available to the public 100 years after it has taken place. The most recent census available to the public was carried out in 1911, so if your property is more than 100 years old you should be able to search the 1911 census (and older census information) to find out who was living in your property at the time.
Search the 1939 identity card records
When World War Two began in 1939 every UK resident was issued an identity card. The information collected for the identity cards is available to the public. It includes:
Name
Address
Sex
Date of birth
Marital status
Occupation
Whether they were a member of the armed forces or reserves
If your property was built before 1939 it may be possible to find the details of who was living there at the time.