Step-by-step guide to selling your house
Selling your house can be a confusing and nerve-wracking process. Most people will sell less than a handful of properties during their lifetime, so many are unsure what is required. Our simple, no-nonsense guide will lead you through the different steps of selling your house and help you to maximise your chances of a smooth and simple house sale.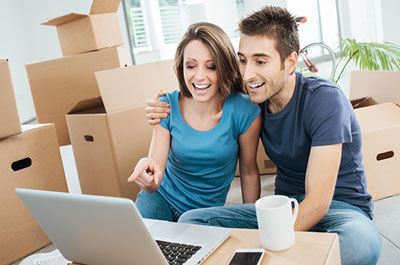 Step-by-step guide to selling your house:
Get your finances in order
The first step in getting your finances in order is to find out the status of any current mortgage you have. Is your current mortgage portable, or would you be required to pay an early repayment fee if you wanted to move house? Early repayment fees will usually be between 1% and 5% of the mortgage value, depending on how long you have left on the deal, so it could be a significant cost that you would need to factor into your budgeting. It may even mean that it is not financially viable to move house until your fixed period has ended.
Whether you are going to apply for a new mortgage or are going to request to borrow more money from your current lender, it might be worth seeing whether there are any quick, simple steps you can take to boost your credit rating. A high credit score will help you to secure a good mortgage deal. Small steps like ensuring you are on the electoral register, avoiding making too many credit applications in a short period of time leading up to your mortgage application, and using a credit card responsibly for regular small payments can all help to make you more desirable to mortgage lenders.
Next, it is time to find out how much a mortgage company might be willing to lend you and secure a mortgage in principle. It is important to have a mortgage in principle in place before you make an offer on a property. A mortgage in principle will give you a good idea of how much the mortgage provider will lend you, and therefore help you to work out your budget for your next property.
Prepare your property for sale
When preparing your property for sale, consider what first attracted you to the property and made it the right one for you. Try to highlight whatever drew you to the property to potential buyers.
It is suggested that most viewers will decide on a property within the first 7 seconds of seeing it, so first impressions really do count. Try to see your property exterior objectively to help you make it look its best. Ensure any front outdoor space is tidy and well-presented. Make sure the front door is clean and windows are sparkling. If the exterior of your property is painted, consider whether it could do with a refresh.
When getting your property ready to sell, you do not want your home to be bland, but you also do not want your personal taste to prevent potential buyers from being able to envisage themselves living in the property. Even simple-to-change décor can be enough to deter would-be buyers.
If there are bigger updating tasks required in the house e.g., new kitchen or new bathroom, it is important to weigh up cost versus benefit. You could end up spending more on the updates than they would add to the value of the property. Whether it is worth updating the property is likely to depend on how dated it is and what condition the current décor is in. You may be able to update the kitchen with some new tiles and a lick of paint, rather than having to install a whole new kitchen. It is worth asking a local estate agent's advice on this, as they will have a good idea about what kind of buyer your property is likely to attract and whether it would be beneficial to update the property before bringing it to market.
It is important to address any structural or damp issues that you are aware of before selling your house. If issues are discovered at the point of survey, it can jeopardise your sale. Around 8% of failed property sales are attributed to issues being uncovered in the property survey.
Get your property valued
Before you invite any estate agents round to value your property, it is wise to arm yourself with some local property market information. Most of the major property portals (Rightmove, Zoopla etc) have a facility to allow you to search recent sold prices in your local area. Comparing your property to nearby homes of a similar size and specification will give you a rough idea of how much your property might be worth. You can also look at other local homes that are currently for sale. This will give you an idea what else is on the market that is similar to your property and help you to ensure your home is priced to attract buyers.
When it does come to getting estate agent valuations, ensure you approach agents with a good knowledge of the local property market and experience of selling similar properties in the area.
It is important to ask the estate agents to justify their valuation using examples of recently sold properties. This will help you to understand where the true value of your property might lie if the valuations vary significantly.
Choose how to sell your house
Most home sellers will choose the traditional high street estate agency route, but there are other options.
Online estate agent:
Online estate agents are usually considerably cheaper than high street estate agents, mainly due to their significantly lower overhead costs. They operate slightly differently to a high street estate agent, so instead of paying a percentage of the final sale price when your property sells, you will usually be required to pay an online estate an upfront fee. This fee is paid regardless of whether their marketing of your property results in a sale or not. This can be a good option if you are happy handling most of the sale process yourself but want to be able to advertise your property on the bigger property portals.
Property auction:
If your property is likely to be difficult to mortgage for any reason (e.g., structural issues or leasehold with less than 100 years remaining on the lease), you might want to consider selling it at auction. Property auctions tend to attract investors and those looking for a renovation project who may be more likely to be able to purchase without a mortgage.
Cash home buying company:
If you are looking for a quick property sale, you might want to consider using a cash home buying company. A cash home buying company will purchase your property with its own funds, enabling you to complete the sale of your house in as little as 7 days.
Private property sale:
Trying to sell your house privately is an option if you want to avoid estate agency costs and feel confident that you could attract a buyer on your own. You should consider, however, that finding a buyer privately means you will need to take on all the tasks usually carried out by an estate agent. This will include marketing the property yourself, conducting viewings, negotiating a sale, and working with your solicitor to progress the sale to completion. So, whilst it is a cheaper alternative to selling via an estate agent, it is a very time-intensive option and can be stressful if you do not have a lot of experience of selling a property.
Get an energy performance certificate (EPC)
Energy performance certificates have been compulsory since 2008.
An energy performance certificate is required whenever a property is built, rented, or sold, and will be issued after a qualified Domestic Energy Assessor (DEA) has carried out a full energy survey on the property.
An energy performance certificate provides information about a property's energy usage and grades it from A (very efficient) to G (not at all efficient). It also suggests ways to make the property more energy efficient. A less energy efficient property will have higher energy bills, so the more efficient you can make your property, the better.
Instruct a conveyancing solicitor
If you are selling your property via an estate agent, you should have a conveyancing solicitor in place before you accept an offer on your property. Upon accepting an offer, your estate agent will draw up a document confirming the price that has been accepted and providing details of each party's solicitor.
Selling a property can be a lengthy process. It is estimated to take an average of 2-3 months for the sale to complete once an offer has been accepted, and can take considerably longer if you are part of a chain or are selling a leasehold property. Choosing an efficient, proactive conveyancing solicitor can help to keep any delays in the selling process to a minimum, so it is important to do your research and choose someone reputable. If you do not already have a conveyancing solicitor in place, asking for recommendations from friends and family can be a great place to start.
Accept an offer
If you are selling your house through an estate agent, it is their job to negotiate on your behalf and get you the highest offer possible. They should also advise you about the level of offer received and whether they think it is a fair price for the property.
When deciding whether to accept an offer, it is important to consider both the price and the would-be buyer's circumstances. For example, a chain-free first-time buyer may be a more attractive prospect than a buyer who is in a lengthy property chain, as the sale is likely to complete more quickly and be less vulnerable to falling through before completion. Currently, around one in three property sales fail to complete, so it's something to keep in mind when vetting any offers.
Draft contracts
Once you have accepted an offer, your conveyancing solicitor will draft sales contracts. It is the exchanging of signed copies of this contract that makes the sale legally binding later in the process.
The contract will include information about the sale, such as the terms of sale, the price agreed, deposit paid and completion date. It will also include details of any ground rent payable if the property is leasehold.
Exchange of contracts
Once any property survey, searches and enquiries have been completed, you will be ready to exchange contracts. It is at this point that the buyer will pay a deposit for the property; usually 10% of the purchase price. Once contracts have been exchanged, both the buyer and seller are legally committed to the sale and a date for the completion of the sale will be confirmed. The completion date is usually between a week and a month after the exchange of contracts, to allow both the buyer and seller to make the necessary arrangements. It is during this period that the buyer's solicitor will arrange to draw down funds from their mortgage provider (if they are using a mortgage to purchase the property). If you are selling the property to a cash buyer, it is possible to exchange contracts and complete the sale on the same day, but as most people rely on a mortgage to purchase a property this is quite unusual.
Once you have a confirmed date for sale completion, you can organise removal services. You should also alert your utilities providers and arrange for your post to be forwarded to your new address from the date of completion.
Completions of house sale
On the date of completion, the balance will be paid, keys will be exchanged, and legal transfer of ownership will occur. Completion will be set for a certain time – usually around midday – and your solicitor will inform you when the sale has completed.